Basel, April 30, 2019. ALENTIS Therapeutics ("ALENTIS"), a Swiss-French biotech company developing novel therapeutics in advanced liver disease and cancer, announced today the completion of a Series A financing of CHF 12.5million (Euro 11.1m; USD 12.5m). The Swiss venture capital firms BioMedPartners and BB Pureos Bioventures co-led the round and were joined by BPI France, Schroder Adveq and the German High-Tech Gründerfonds (HTGF).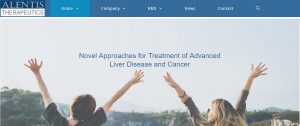 Markus L.E. Ewert, PhD, MBA has joined the company as Chief Executive Officer. Markus was previously CBO at Ablynx, contributing to both its US IPO and highly successful sale to Sanofi. Before, he led global corporate development at GE Healthcare, had leadership positions at Novartis, and has a track record of building businesses based on innovations.
ALENTIS' lead program is a humanized monoclonal antibody against a target that plays a key role in the pathology of liver fibrosis and hepatocellular carcinoma (HCC). Advanced liver disease and cancer are major clinical challenges world-wide and characterized by a poor outcome and limited therapeutic options.
ALENTIS' research is powered by its proprietary drug discovery platform, which is based on a prognostic liver disease signature holding promise for the discovery and development of further drug candidates to treat advanced liver diseases and cancer.
ALENTIS is founded on ground-breaking research of the laboratory of Prof. Thomas Baumert, MD at the University of Strasbourg, the Inserm Institute for Viral and Liver Disease, the Laboratory of Excellence HepSYS and the Institut Hospitalo-Universitaire Strasbourg as well as other collaborators, including Prof. Yujin Hoshida, MD at the University of Texas Southwestern in Dallas.
SATT Conectus, the organization for accelerating technology transfer in the Alsace territory (France) has been essential in providing, building and securing the IP portfolio that has been licensed to ALENTIS. BaseLaunch, a healthcare accelerator operated by BaselArea.swiss, has been instrumental as an early stage financial and operational supporter in the formation of the company. As a result of this tri-national collaboration, ALENTIS' headquarters have been incorporated in Basel (Switzerland) with a subsidiary in Strasbourg (France) and a branch in Germany.
Thomas F. Baumert, MD, principal founder of ALENTIS and Professor of Medicine, Head Inserm Research Institute, Chair Hepatology University Hospital Strasbourg said: "Together with my colleagues we are excited to be translating our novel approaches and therapeutic compounds with a unique mechanism of action into clinical drug candidates, with the aim of improving the very poor outcomes of patients with advanced liver disease."
Andreas Wallnöfer, former Head of Clinical Research & Exploratory Development at F. Hoffmann-La Roche Ltd and General Partner at BioMedPartners added: "The pre-clinical data set of the ALENTIS lead molecule are most comprehensive and convincing: they support the therapeutic potential in advanced liver disease of different origins. Prof. Baumert's research is truly translational and links pre-clinic and clinic through a prognostic gene expression signature, which is most valuable to optimally characterize the lead project and fuel further programs."
ALENTIS' Board of Directors will comprise Neil Goldsmith, a co-founder and Chairman; Andreas Wallnöfer, General Partner at BioMedPartners; Martin Münchbach, Managing Partner at BB Pureos Bioventures; Benoit Barteau, Senior Investment Manager at BPI France, and Prof. Thomas F. Baumert, the principal founder.
---
About ALENTIS 
ALENTIS Therapeutics (ALENTIS) discovers and develops novel medications to treat advanced liver diseases, such as liver fibrosis, cirrhosis and liver cancer (hepatocellular carcinoma, HCC).
A Swiss-French biotech company, established as ALENTIS Therapeutics Ltd in March 2019, ALENTIS is headquartered in Basel (Switzerland) with a subsidiary in Strasbourg (France) and a branch in Germany.
ALENTIS has in-licensed platform technologies and a monoclonal antibody drug candidate which are the result of more than a decade of research from the University of Strasbourg and Inserm, the French National Institutes of Health and the Mount Sinai Hospital, New York.
A privately held company, ALENTIS is financed by leading venture investors BioMedPartners, BB Pureos Bioventures, BPI France, Schroder Adveq and the German High-Tech Gründerfonds (HTGF).
Markus L.E. Ewert, PhD, MBA
Chief Executive Officer
markus.ewert@alentis.ch