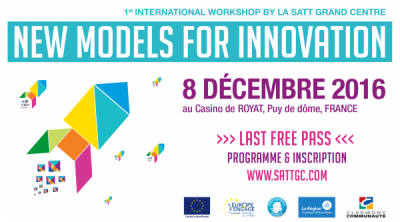 Subscribe : www.sattgc.com/fr/new-models-for-innovation/

Program : 
10h30 > 12h30 | Plenary session
« Inspiring Models for Innovation » 

Moderator : Franck ALCARAZ (Reg. Man., Auvergne-Rhône-Alpes Region, France)
James BARLOW (Prof., Chair in Technology and Innovation Management, Imperial College London, United Kingdom)
– Tackling the healthcare innovation challenge. Do we need a new direction? 
Sylvain MORENO (Director Digital Health Hub, SFU, Canada)
– Mechanisms for innovation in aging and health: Innovation hub model and co-creation process. 
Anna HALL (COO, Manufacturing Cluster IUC Syd, Sweden) & Mia ROLF (CEO, IDEON Science Park, Sweden)
– Connecting the Industry to innovation and science – through creative cooperation :
– Big Science Technology workshop and process – an innovative and hands-on model facilitating links between Big Science, Academia and Industry.
– Ideon Science Park –  competence mixes, open innovation and incubator strategies has made success and employment grow over time. Creative cooperation has made it possible.
Andreas WINKLER (Head of ecosystem, IDM Südtirol, Italy)
– NOI – NATURE OF INNOVATION : South Tyrol's new technology park.
Daniel BURTIN (President, SATT GC, France)
–Valuing research through innovation to reach a sustainable economical development
Grand Temoin : Medhi GMAR (Deputy Dir., Commissariat Général à l'Investissement, France)
13h30 > 14h15 | Training session
Competence mapping : Good practice for accelerating business development
Benjamin Losert (Ecoplus, Austria) and Andreas Winkler (IDM Südtirol, Italy)
14h15 > 16h00 | Parallel thematic sessions 
1 R&D and technology transfer
Moderator : Agnès Gahigi (DRRT Auvergne Rhône Alpes, France)
Sylvain Routier (Prof., Orléans University, France)
Andrew Sixmith (Prof., Sc. Dir., AGE-WELL Network of Centres of Excellence, Canada)
Eric Dessertenne (Head Bus. Dev., Biocorp, France)
Pierre Ruaud (Prospective & Innovation Man., Limagrain, France)
Benjamin Losert (Proj. Man., Ecoplus, Austria)
Inez Suija-Markova (Man. Dir., Institute for Environmental Solutions, Latvia)
2 Business & entrepreneurship
Moderator : Bertrand Valiorgue (VP Partnership, Auvergne University)
Cedric Komar (CEO, Ictyopharma, France)
Benoit Membré (CEO, Le Bivouac, France)
Michael Bidu (CEO, Interface Health, Canada)
Pascal Voulton (CEO, SOFIMAC, France)
Zsuzsanna Pintér (CEO, Innoskart, Hungary)
Yan Bailly (Reg. Man, Numélink, France)
3 Clustering & cooperations for innovation
Moderator : Jean-Sébastien GUEZ (bus.Dev, SATT GC, France)
Henrik Berven (Business Dev.Man, Region Skåne, Sweden)
Alain Eschalier (Pres., Auvergne University and Pres., Fondation Analgesia, France)
Olivier Exertier (Sec. Gen., CLARA, France) & Ophélie Philippot (Proj. Man., CLARA, France)
Gál Kormendy (Pres., Hungarian National Alliance for Innovative Clusters, Hungary)
Anne de la Sayette (CEO, CRITT Horticole, France)
16h00 | Perspectives & conclusion
16h30 > 18h00  | Networking coffee + Free meetings (B2B and focus groups)